Family game nights started out as a game of cards around the table or a board game manned by a group of people. These game nights would take place once every week or so, and families could enjoy spending time together while also playing a fun round of games. Like everything else, game night has transformed in the modern age, and you can follow the trends to keep your family and friends engaged with the Amazon Echo Buttons.

Amazon has once more blown up the market with its announcement of the Amazon Echo Buttons Game Controller to its wide family of Echo products. They're are designed to allow you to enjoy the physical interaction with the other Echo devices that you own, and are especially ideal for those who want to use them playing family games. Much like Alexa, these controllers are voice activated and will allow you to control the other Alexa devices in your home, also allowing users to be able to play a number of different games with their friends and family.
These new units are small and similar in shape and size to a hockey puck. They are simple to store away when not in use, taking up little to no space on the shelves all lined up or spread around the house to make it easier to communicate with Alexa from afar. Those who own them will be able to use them to play games with the Alexa device. Amazon has shown off the fact that the Amazon Echo Game Buttons can play games such as trivia and more using more than one of these controllers. The way it works involves the different buttons becoming illuminated during games like trivia, and with each button, players can press down on them, allowing allow them to answer the question.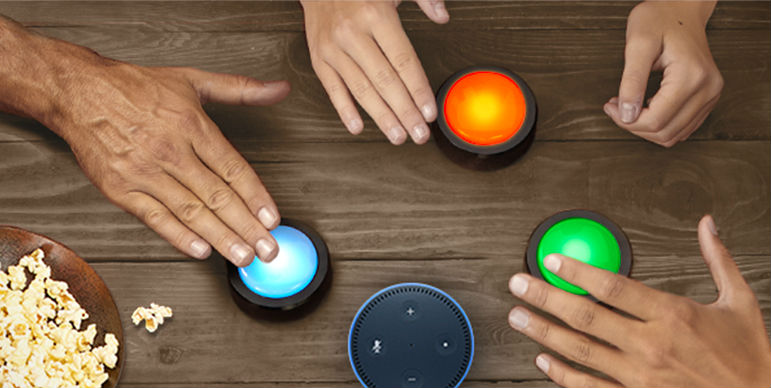 In other ways, you can use the Amazon Echo Buttons to set off a number of gameplay styles and experiences that are powered by Alexa. You can revamp and revitalize your family and friends' game night with the modern and sophisticated Amazon Echo Buttons. There are a number of games that have already been announced that will come with it. This includes Beat the Intro, which is the Ultimate Music Game, as they advertise it. This gadget also includes Dungeon Escape, a dungeons and dragons-style, role-playing game that brings that old classic to life, as well as a game called Sounds Fun.
The Amazon Echo Buttons Game Controllers are the very first in line to become the forefathers of the Alexa Gadgets that Amazon is putting out; these gadgets are intended to help those who own Echo devices enjoy them in a fun and playful way. With many other ones planned in the future, these Echo Buttons are already set to be sold in two packs for a low price of $20 to ensure the entire family can get what they want.
You can sign up to purchase Echo Buttons Here.
Technology has affected his generation like no other. His life experience has brought him to every avenue of life and writes about the tech that is involved.